We believe in creating a relationship with our patients that goes beyond the office doors. We've specially created this section of our site to share with you important events from our office.
If you would like to join a fun, enthusastic dental team, we are currently looking for a full time certified dental assistant.
You can contact the Executive Director, Deana Billings, at dabillings@wphdc.com or 336-667-5170.
Back to School Bash
August 24, 2021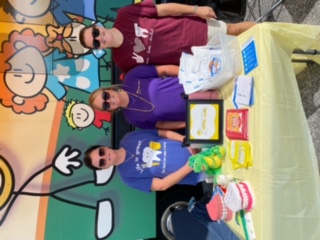 Our Mobile Dental Clinic and some of our staff volunteered for the Back to School Bash on August 21st. This event was hosted by Project Lazarus Wilkes Youth Coalition. There were a lot of games and free school supplies for the kids to head back to school. Thanks fo lettingour office be a part of this for our community.
Wilkes Mobile Dental clinic at Clingman community center
August 09, 2021
Wilkes Mobile Dental Truck is coming to Clingman Community Center
Monday, August 9th, 2021 9am-3pm
We will offer Emergency Treatment and New Patient Exams/X-rays
WALK-INS will be accepted on a limited basis
Contact us if you would like an appointment or for more information at 336-903-7303
You will need to bring:
*Recent income information for our sliding fee discount
*Insurance/Medicaid Card
*Photo ID
*A current list of any medications you are taking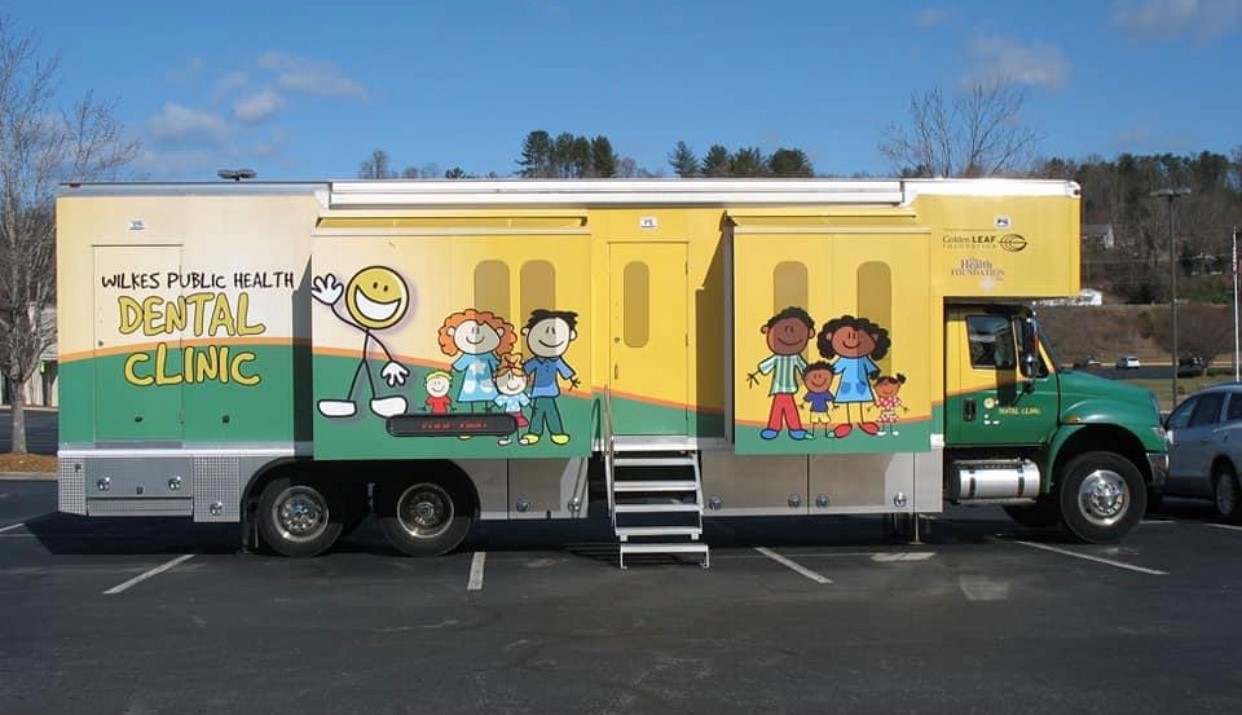 Samaritan's Kitchen
April 25, 2021
Our staff from the Wilkes Public Health Dental clinic donated food to the Samaritan's Kitchen of Wilkes County. Thank you staff for being so kind and always helping our community!
WPHDC is excited to announce the addition of two new dentists
August 03, 2020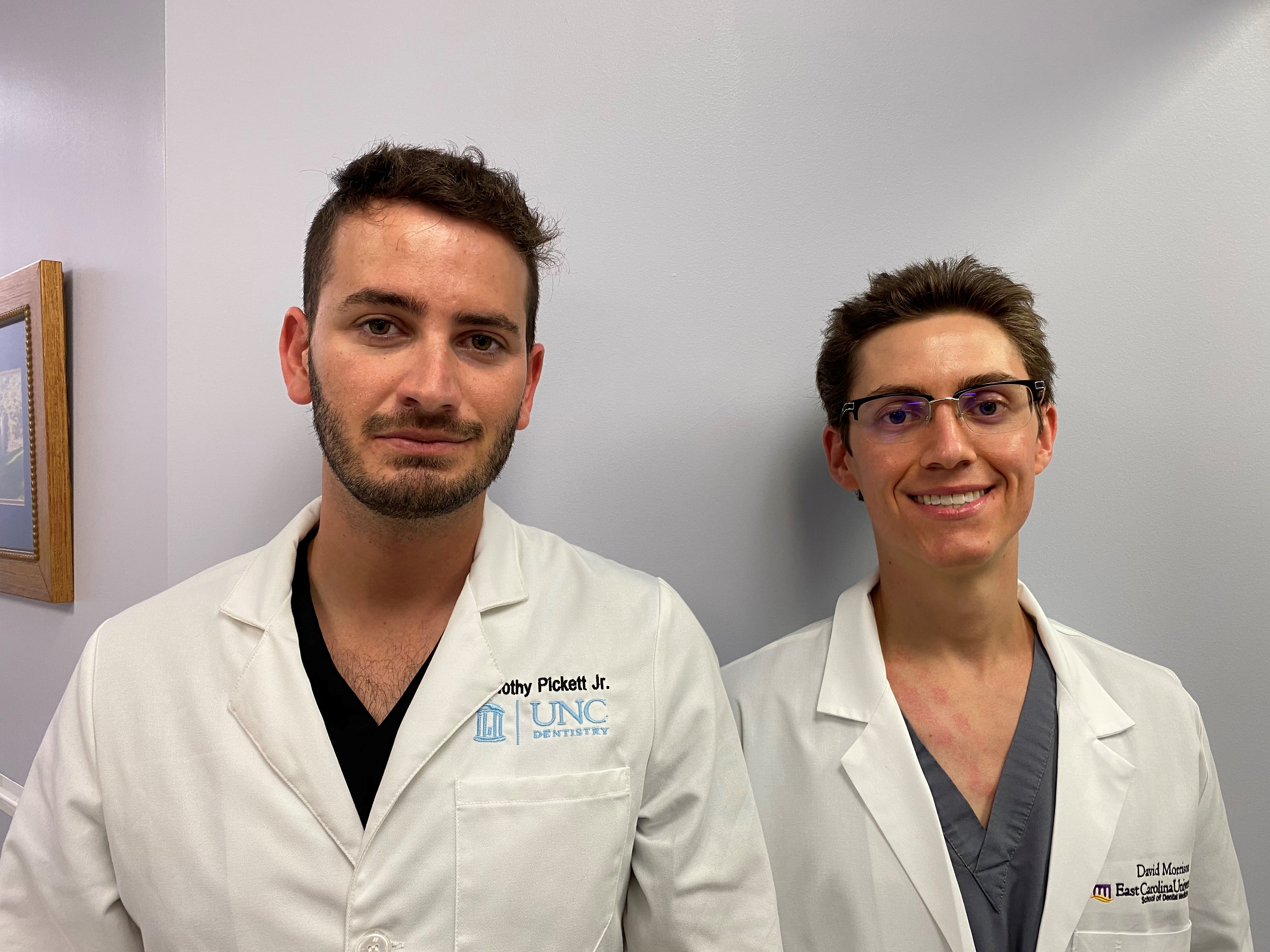 The Wilkes Public Health Dental Clinic is thrilled to announce the addition of two new dentists who joined the team on June 23rd, 2020. They are Dr. David Claude Morrison and Dr. Timothy Allen Pickett, Jr.
Dr. Morrison is originally from Hamptonville, North Carolina. He was Valedictorian at Starmount High School and graduated Magna Cum Laude with Bachelor of Science degrees in biology and nutrition from North Carolina State University. Dr. Morrison earned his doctorate at East Carolina University School of Dental Medicine and also completed a one-year advanced general dentistry residency at East Carolina University. Dr. Morrison's professional affiliations include the Academy of General Dentistry, American Dental Association, North Carolina Dental Society and International Team for Implantology. While in dental school Dr. Morrison volunteered for North Carolina Missions of Mercy providing services in 12 clinics to help provide free dental services to underserved patients. He also participated in a weeklong mission trip to the Dominican Republic San Jose De Ocoa Province in order to provide free dental services to hundreds of patients in communities with limited access to healthcare. Outside of dentistry Dr. Morrison enjoys fitness, the outdoors, traveling and spending time with his family and two dogs. Dr. Morrison states that he is excited to return home to serve his community and to provide his patients with comprehensive evidence-based dental care of the highest quality in a relaxed, welcoming, and inclusive environment.
Dr. Pickett grew up in Wilkes County and is a graduate of North Wilkes High School. Dr. Pickett graduated from Appalachian State University with a Bachelor of Science degree in chemistry with a minor in biology. While at Appalachian State University he completed Organic II Chemistry Honors. He completed his doctorate at the University of North Carolina at Chapel Hill and is currently a member of the North Carolina Dental Society. While in dental school Dr. Pickett volunteered at the Wake Brook Clinic to help provide free dental care for underserved and unserved patients. He, also, volunteered for North Carolina Missions of Mercy providing services in 12 clinics to help provide free dental services to underserved patients. As a student dentist, Dr. Pickett treated underserved and medically compromised patients at the Commwell Health Penderlea and at the Pamlico Community Health Center. In his free time, Dr. Pickett enjoys tennis and hiking. Dr. Pickett states that he excited to be serving folks in his home county who are in need of quality dental care which will ultimately improve their overall health and well-being.
Dr. Morrison and Dr. Pickett are accepting new patients at this time. Please call 336-903-9399 for an appointment. The mission of the Wilkes Public Health Dental Clinic is to serve the unserved and the underserved children and adults of Wilkes County and the health professional serviceareas in need of dental care.
Childhood Tooth Injuries
July 15, 2020
With warmer weather, outdoor activities and sports starting, we want to keep parents informed in the case of mouth injuries. Here is some information from the American Academy of Pediatric Dentistry to help parents be prepared for the most common types of childhood tooth injuries.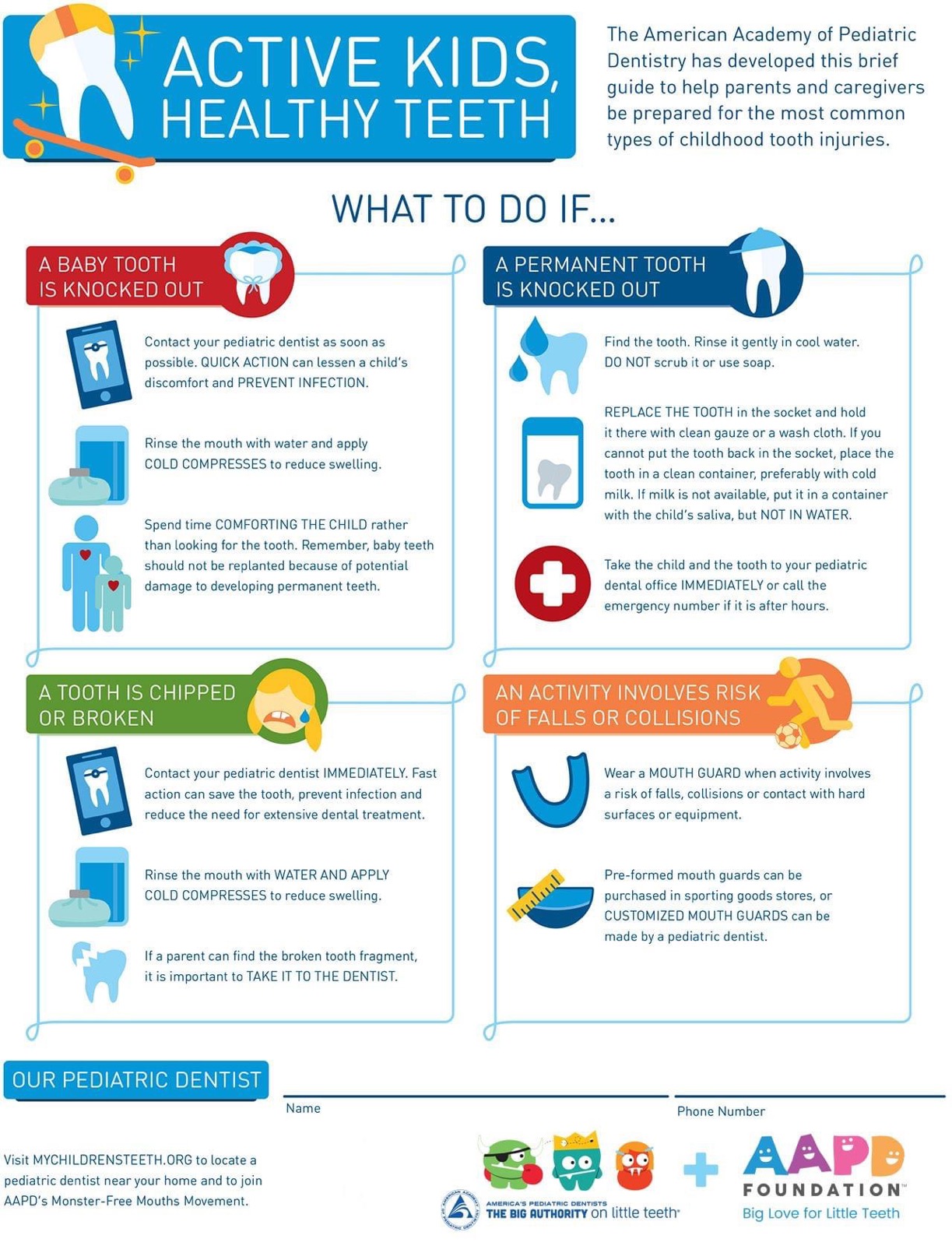 2020 Fundraiser
March 11, 2020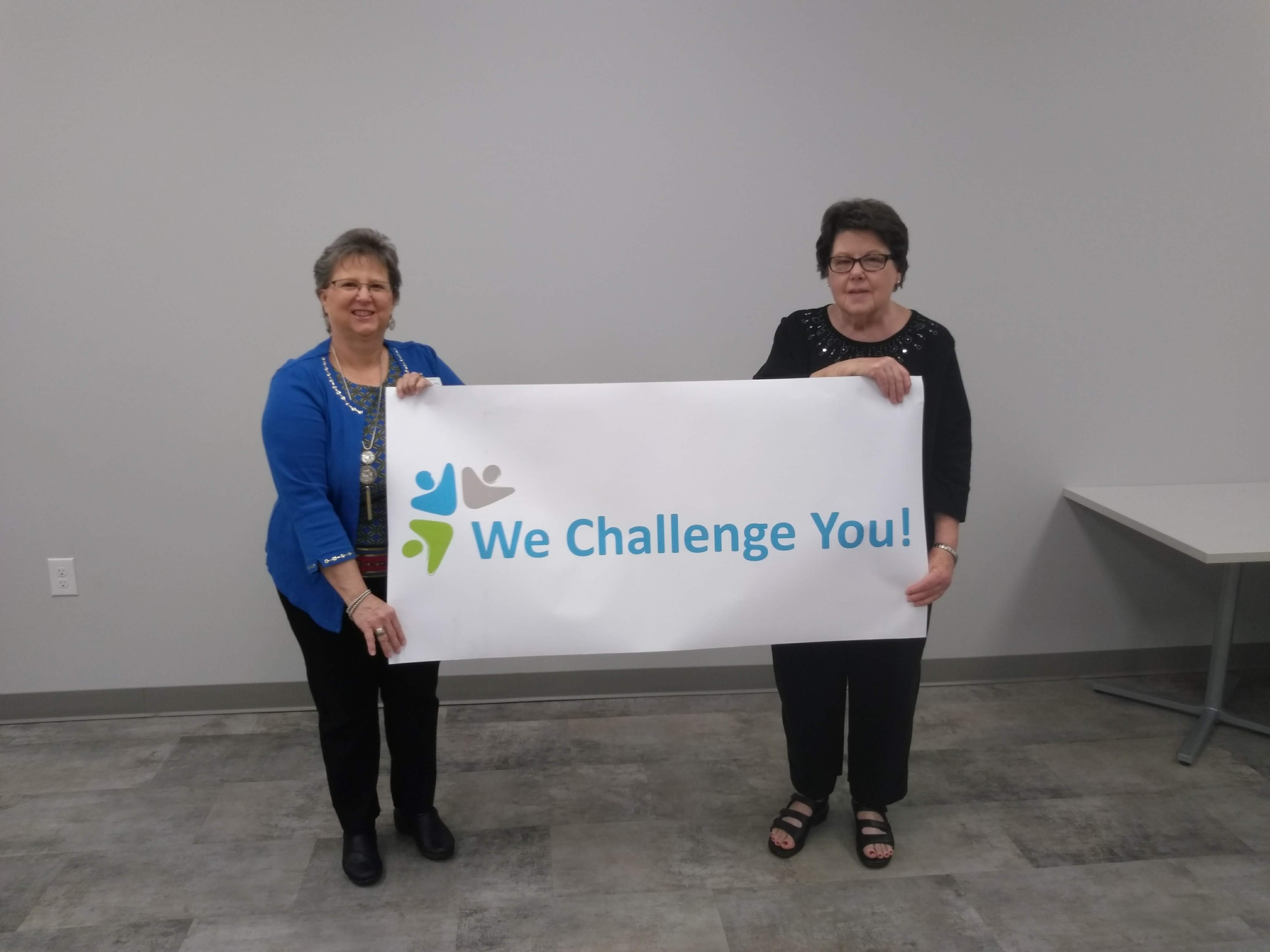 Wilkes Public Health Dental Clinic has been awarded The Health Foundation Challenge Grant. The matching grant award is $10,000. The Dental Clinic will be holding a fundraising campaign to raise at least $10,000 in order to receive the matching grant. The Wilkes Dental Consortium Board of Directors and the Staff of the Wilkes Public Health Dental Clinic would like to express their appreciation for the grant award and partnership with The Health Foundation, Inc.
Why does the dental office need to take my blood pressure?
January 16, 2020
Many people may wonder when they come in for dental work, "what does it matter what my blood pressure is, when you are only working on my mouth?". A lot of people that view themselves as healthy only visit their physician every few years, but may typically see their dentist twice every year. High blood pressure may lack warning signs and the patient may not know until it is at dangerous levels. Most commonly high blood pressure causes no symptoms at all. However, in some cases some people may experience headaches, fatigue, vision problems, difficulty breathing or chest pain. It is recommended that you see a physician regularly to have blood pressure readings checked.
Dental offices may alert the patient to slightly elevated levels or dangerously high levels that the patient may not have known about. Blood pressure readings in the dental office are helpful in choosing the appropriate local anesthesia for dental injections. High blood pressure results in additional risk for a medical emergency which prevents the dentist and staff from providing dental care to the patient until this is controlled. The dentist may recommend that you see a physician upon leaving the office to encourage immediate medical treatment.
BP category Systolic (upper #) Diastolic (lower #)
Normal less than 120 and less than 80
Prehypertension 120-130 or 80-89
High Blood pressure
(Hypertension Stage 1) 131-159 or 90-99
Hypertension Stage 2 160 or higher or 100 or higher
Hypertensive Crisis Higher than 180 or Higher than 110
Avoiding Dental Emergencies
January 16, 2020
If you have ever suffered through a dental emergency, you likely are eager to avoid repeating the experience. True, some situations cannot be anticipated, but there are steps that you can take to steer clear of sudden dental pain and infection. Below are a few of our suggestions to help keep patients smiling.
1) Seek Regular Preventive Care: Your dentist will recommend a dental cleaning, periodic evaluation, and x-rays on an interval that is customized to your dental risk. For some people with low risk, this may mean going more than 6 months between cleanings. For others, it could mean we recommend treatment of your teeth and gums every 3-4 months to prevent complications from periodontitis (a disease of the bones and gums surrounding your teeth.) It is important to remember that your dentist can detect problems sooner than you may feel them: dental cavities are not typically painful in their early stages, and by the time a patient can feel a tooth "loosening" due to gum disease there may not be much we can do to prevent the tooth loss.
2) Pay Attention to the Early Warning Signs: Over the years, I have heard numerous patients who arrive to our office in pain report that their symptoms began "last year" or "3 months ago." Many things may keep patients from seeing the dentist (anxiety, financial concerns, busy schedules, hope that the problem will just "go away"), but delaying treatment will only cost you more pain and suffering. Dental pain that is ignored can result in spreading infection, that may be life threatening.
3) Make Healthy Choices Each Day: The best way to avoid dental emergencies is to do your "homework." Brush with fluoride toothpaste for two minutes twice each day, and floss before bed! Avoid sipping on soda (even diet!) or sweet tea, which can contribute to cavities. Wear a mouthguard for sports or other activities when your mouth may be hit. See your medical doctor regularly to take care of your overall health, especially conditions like diabetes or high blood pressure. Believe it or not, cardiovascular disease and diabetes are related to your oral health! Also, if your blood sugar or blood pressure are not in a healthy range, it may result in a delay to emergency dental treatment. Patients with uncontrolled diabetes typically take longer to heal after dental extractions and are at greater risk for pain and infection after treatment. Working with your doctor (and following dietary recommendations) to keep your health in check will help make your dental treatment less complicated.