The Wilkes Public Health Mobile Dental Clinic began operation in 2001. Currently, the mobile clinic serves both children and adults around the county. For the past 10 years, the Mobile Dental Clinic has treated children in the Wilkes County School System. Our first treatment location was Boomer Ferguson Elementary School.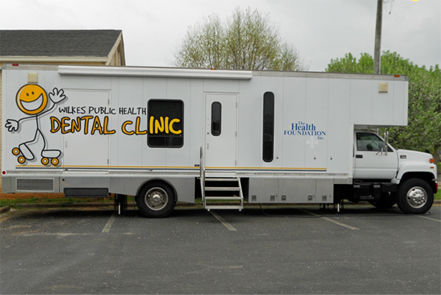 2001-2007
Elementary schools only. Average patients treated per school year: 144
2008-2009
22 Wilkes County Schools including middle and high schools. Average patients treated: 275
2009-2010
22 Wilkes County Schools. Average patients treated: 388
2010-2011
22 Wilkes County Schools. Average patients treated:
Treatment of adult patients at community and medical centers around Wilkes County
Beginning in 2008, The Mobile Dental Clinic staff began a partnership with BROC/Head Start to provide all required annual dental screenings on location at the Head Start centers. We have provided screenings/exams for 5 centers in the Tricounty area of Ashe, Alleghany and Wilkes with an average of 189 children receiving screenings each year.
The Mobile Clinic will be expanding our services to include adult dental care. We are excited to be partnering with local community centers and medical centers to address the dental needs of adults throughout Wilkes County. Our goal is to initially provide emergency care in order to evaluate need and community response.
Mobile Updates:
Parents and Wilkes County Schools staff: we are now treating adult patients. Call for convenient after school appointment times when we are in your area, or ask about our monthly visits to local community centers. We believe that healthy parents raise healthy kids. Be a good role model by caring for your oral health, and your children will follow your lead!